Leadership Development that Actually Develops Leaders.
Coaching is the most successful method for an individual to gain self-awareness and realize their potential. Coaching teaches participants to enhance their own unique work habits for higher achievement at work and in life.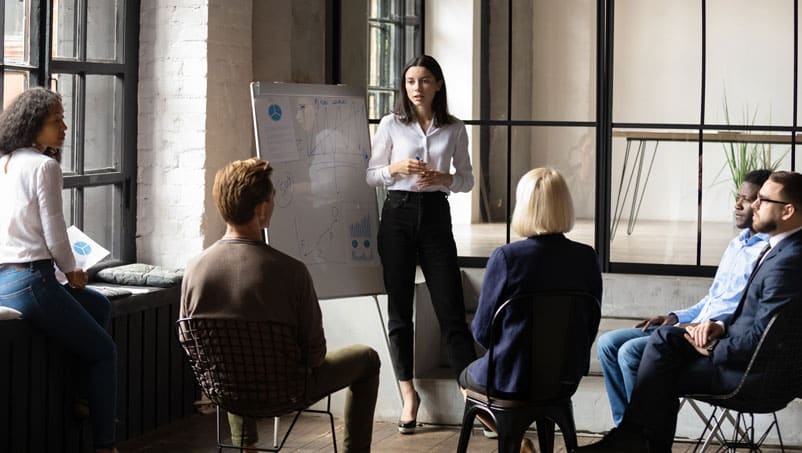 A Registered Corporate Coach (RCC) will work with participants during a six month engagement to understand their personal work style, drivers of achievement and barriers to success, as well as how to best achieve excellence through learning and applying leadership lessons.
Customized plans are created for each participant which focus specifically on the individual's goals.
Assignments during the engagement include various assessments, book readings specific to the participant's needs/preferences, proven exercises to increase personal performance and creating a personal accountability system for achieving sustained excellence.
Improvements that equal productivity & personal growth
Improved working relationships with direct reports

Improved working relationships with manager

Increased team-building

Greater reduction in conflict

Improved business relationships with clients

Improved personal habits such as time management and communication
No one can guarantee that another human will change habits or increase their effectiveness. Coaching offers a variety of tools and learnings that may be applied to any person, but it is inevitably up to the individual to reach their own full potential.
The best participants are those who seek development for themselves and want to grow in their careers. In addition, notable success has been seen with clients who may have been encouraged to participate for improving personal performance.
Coaching Engagement
Includes: Welcome package & kickoff materials
DISC assessment & analysis
All 1:1 coaching meetings
Accountability plan
Months 1-3
Weekly 1:1 (one hour each)
In-person or Zoom
First (kickoff) session is required to be in-person (1.5 hours)
Months 4-5
Sessions change
to bi-weekly
One hour each
Month 6
In-person sessions
Comprehensive review to ensure continued learning
Establish accountability system for ongoing growth
Call us today to schedule a consultation for Corporate Coaching
864.525.5366